Appetizer – 20 portions
Servings
20 persons,
Preparation time
15 minutes,
Cooking time:
16 minutes
Ingredients
250 g ricotta
2 tablespoons flour
1 egg, separated
Freshly ground pepper
15 g fresh basil, finely chopped
1 tablespoon chives, finely chopped
3 slices of stale white bread
Directions
Mix the ricotta in a bowl with the flour, egg yolk, 1 teaspoon salt and freshly ground pepper. Stir the basil, chives and orange peel through the mixture.
Divide the mixture into 20 equal portions and shape them into balls with wet hands. Let the balls rest for a while.
Grind the bread slices into fine bread crumbs with the food processor and mix with the olive oil. Pour the mixture into a deep dish. Briefly beat the egg white in another deep dish.
Preheat the AirFryer to 200°C.
Carefully coat the ricotta balls in the egg white and then in the bread crumbs.
Put 10 balls in the basket and slide the basket into the AirFryer. Set the timer to 8 minutes. Bake the balls until golden brown. Bake the rest of the balls in the same way.
Serve the ricotta balls in a platter.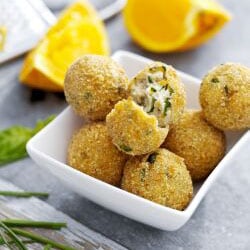 Our site can best be viewed with the latest version of Microsoft Edge, Google Chrome or Firefox.