Servings
9 persons,
Preparation time
10 minutes,
Cooking time:
20 minutes
Ingredients
200 g ready-made (frozen or chilled) puff pastry
Filling as desired
Directions
Preheat the airfryer to 200°C.
Cut the pastry into 16 squares of 5x5 cm and scoop a heaped teaspoon of filling onto each square.
Fold the squares into triangles and moisten the edges with some water. Press the edges firmly together with a fork.
Put eight parcels in the basket and brush them with milk. Slide the basket into the airfryer and set the timer to 10 minutes. Bake the appetizers until they are golden brown.
Bake the remaining parcels in the same way. Serve the puff pastry bites in a dish.
Fillings: - Ricotta and Ham Mix 50 g ricotta with 25 g finely-chopped ham and freshly ground pepper - Ricotta and Salmon Mix 50 g ricotta with 25 g smoked salmon and 1 tablespoon finely chopped chives - Cheese and Green Onion Mix 75 g grated cheese (Gouda, Cheddar or Gruyère) with one thinly sliced green onion - Shrimps and Dill Mix 75 g chopped pink shrimps with 1 tablespoon finely chopped dill and ½ tablespoon lemon juice - Pepper and Salami Mix 50 g salami in strips with ½ red bell pepper diced into small cubes and 1 tablespoon of finely chopped fresh oregano - Apple and Cinnamon Mix ½ apple chopped into small pieces with ½ tablespoon sugar, 1 teaspoon grated orange peel and 1 teaspoon cinnamon - Apple and Ginger Mix ½ large apple, chopped into small pieces, with 1 tablespoon finely chopped preserved ginger and 1 tablespoon of finely chopped fresh mint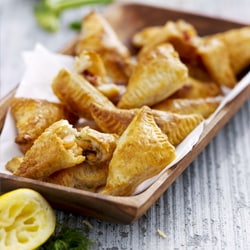 Our site can best be viewed with the latest version of Microsoft Edge, Google Chrome or Firefox.