Main course – 4 portions
Servings
4 persons,
Preparation time
20 minutes,
Cooking time:
14 minutes
Ingredients
1 ripe mango
1½ teaspoons red chili paste
3 tablespoons fresh coriander or flat leaf parsley
Juice and zest of 1 lime
500 g white fish fillet (cod, tilapia, pangasius, pollack)
1 egg
1 green onion, finely chopped
50 g ground coconut
Directions
Peel the mango and cut it into small cubes. Mix the mango cubes in a bowl with ½ teaspoon red chili paste, 1 tablespoon coriander and the juice and zest of half a lime.
Purée the fish in the food processor and then mix with 1 egg and 1 teaspoon salt and the remainder of the lime zest, red chili paste and the lime juice. Mix with the remainder of the coriander, the green onion and 2 tablespoons coconut.
Put the remainder of the coconut on a soup plate. Divide the fish mixture into 12 portions, shape them into round cakes and coat them with the coconut.
Place six fish cakes in the basket and slide it into the AirFryer. Set the timer to 7 minutes and fry the fish cakes until they are golden brown and done. Fry the remainder of the fish cakes in the same way.
Serve the fish cakes with the mango salsa. Tasty with pandan rice and stir-fried pak choi.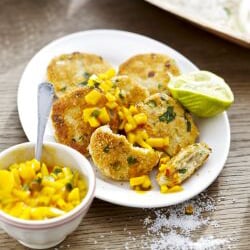 Our site can best be viewed with the latest version of Microsoft Edge, Google Chrome or Firefox.