A classic combination
Servings
4 persons,
Cooking time:
15 minutes
Ingredients
25 g fresh basil leaves
25 g pine nuts
2 cloves garlic, cut in half
200 ml extra virgin olive oil
25 g Parmesan cheese, grated
1 loaf ciabatta bread
2 balls (buffalo) mozzarella
Directions
Put the basil leaves, pine nuts and 1 clove of garlic in the chopper accessory of the hand blender. Add 3 tablespoons of olive oil and blend. 'Add a little more olive oil if necessary to get the right consistency, then add the cheese and blend again.
Thickly slice the ciabatta and place under the grill until golden brown. Remove from the oven and rub with the rest of the garlic while the bread is still warm.
Top bread with slices of mozzarella and a little pesto. Serve warm.
15 minutes total preparation time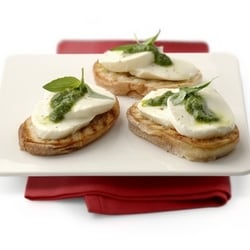 Our site can best be viewed with the latest version of Microsoft Edge, Google Chrome or Firefox.