Servings
4 persons,
Preparation time
12 minutes,
Cooking time:
23 minutes
Ingredients
8 young carrots
8 green asparagus
1 yellow paprika cut into long thin strips
100 g mange tout
8 sprigs of parsley
6 sprigs of dill
1 small red onion, finely chopped
3 pangasius fillets, about 200 g each
Grated rind and juice of 1 orange
2 teaspoons curry powder
2 dessertspoons oil
Directions
Peel the carrots and then use the peeler to slice the carrots into long thin ribbons. Cut the asparagus diagonally into thin slices but keep the tips intact. Place the carrot ribbons in basket 3 and spread the asparagus, paprika and mange tout on top. Set the timer to 8 minutes, press the 'start-stop' button and steam the vegetables until tender but still crisp.
Cut off the stalks from the parsley and dill. Chop the leaves finely and mix them in with the onion. Halve the pangasius fillets lengthwise and then cut them in half. Sprinkle the fish pieces with some salt and pepper and sprinkle the herbs over them. Roll the fillets firmly and fasten them with a cocktail stick. Place the little rolls in basket 2 leaving sufficient space between them.
Spoon 1 teaspoon of orange peel together with teaspoon of curry and the herb stalks into the flavour booster. Place basket 2 underneath basket 3. Turn the dial to the 'fish' setting, switch on the Gentle Steam and set the timer to 15 minutes. Press the start button and steam the fish rolls until cooked. Steam the fish rolls for a further 3-5 minutes if necessary.
Heat the oil in a saucepan and fry 1 teaspoons of curry powder for 30 seconds. Stir in the orange juice and the remaining orange rind and allow the dressing to simmer for 1 minute.
Arrange the vegetables loosely on warmed plates and place the fish rolls in the middle. Drizzle some of the orange dressing over the fish and the vegetables and serve the remaining dressing separately.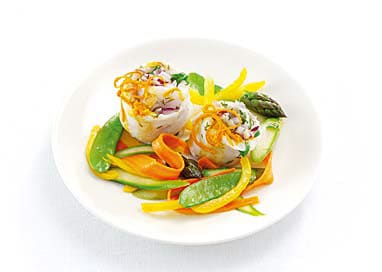 Our site can best be viewed with the latest version of Microsoft Edge, Google Chrome or Firefox.