Servings
6 persons,
Preparation time
15 minutes,
Cooking time:
125 minutes
Ingredients
2 tablespoons olive oil
2 rashers of smoked streaky bacon, finely sliced
2 heaped teaspoons dried oregano
2 medium onions, peeled
2 cloves of garlic, peeled
2 carrots, peeled
1 small bunch of fresh basil, leaves picked and stalks finely chopped
500 grams of good-quality minced beef, pork or a mixture of the two
800 grams of chopped tomatoes (tin)
250 millilitres of red wine
sea salt and freshly ground black pepper
500 grams of dried tagliatelle
40 grams of freshly grated Parmesan cheese
extra virgin olive oil
Directions
Make sure the stirrer attachment is in place in the pan, then set the temperature to 175°C. Once the pan has heated up, add the olive oil, bacon and oregano and set the timer for 5 minutes, so the bacon gets lightly golden. Sit the Cutting tower alongside the HomeCooker with the coarse grater in place and switch it on. Run through the onion, garlic and carrot into the pan (if you don't have a Cutting tower, simply finely chop by hand). Add the basil stalks to the pan and set the timer for 15 minutes.
Increase the temperature to 250°C. Break up and add the minced meat then set the timer for 10 minutes, so the meat browns nicely. Add the tinned tomatoes, then pour the red wine into one of the empty tins, top up with water and pour into the pan. Season and bring to the boil, then reduce the temperature to 130°C, put the lid on and set the timer for 60 minutes. Remove the lid and set the timer for another 30 minutes.
When there's about 15 minutes to go, cook the tagliatelle in a large pan of boiling salted water according to packet instructions. Scoop out and reserve a cupful of cooking water, then drain the pasta well and return to the pan.
Turn off the HomeCooker, stir half of the Parmesan into the Bolognese and tear in the larger basil leaves, then season to taste. Tip the sauce into the pasta pan and mix well, loosening with reserved cooking water if needed. Serve scattered with the remaining Parmesan, the baby basil leaves, and a little drizzle of extra virgin olive oil.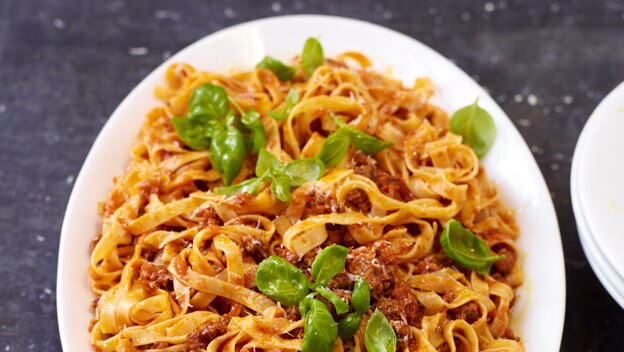 Our site can best be viewed with the latest version of Microsoft Edge, Google Chrome or Firefox.