Servings
2 persons,
Preparation time
15 minutes,
Cooking time:
20 minutes
Ingredients
1 handful of sugar-snap peas, halved
100 gram basmati rice
2 x 140 gram sea bass fillets, pin-boned and skin scored
3 spring onions, trimmed and finely sliced
1 lime, quartered for the paste
1 Limone, geviertelt cm
1 bunch of fresh coriander (reserve a few pretty leaves)
1 thumb-sized piece of fresh ginger, peeled
1 clove of garlic, peeled
2 fresh red chillies, deseeded
1 teaspoon sesame oil
3 tablespoons soy sauce
zest and juice of 1 lime
100 millilitre light coconut milk
Directions
In a food processor or liquidizer, blitz all of the paste ingredients until smooth and combined. For this recipe, you don't need the stirrer attachment. Pour 2.5 litres of water into the HomeCooker pan and set the temperature to 250°C. Once the water is boiling, sit the pasta insert in the pan, add the rice and set the timer for 4 minutes. When the time's up, carefully lift out the pasta insert to drain the rice.
Pour some of the water out of the pan so you're left with 500ml. Gently stir the blitzed paste into the rice then tip the rice into the steamer basket and spread it out in an even layer. Lay the sea bass fillets on top, skin side down. Place over the pan, put the lid on, reduce the temperature to 175°C and set the timer for 5 minutes.
Place over the pan, put the lid on, reduce the temperature to 175°C and set the timer for 5 minutes.Scatter the sugar-snaps over the fish, replace the lid and set the timer for a further 5 minutes, so the fish is lovely and tender. Divide the rice, fish and sugar-snap peas between your plates. Scatter over the spring onions, chilli and reserved coriander, then serve with lime wedges on the side for squeezing over.

Chef's tip:

Try swapping the sea bass for large shell-off prawns.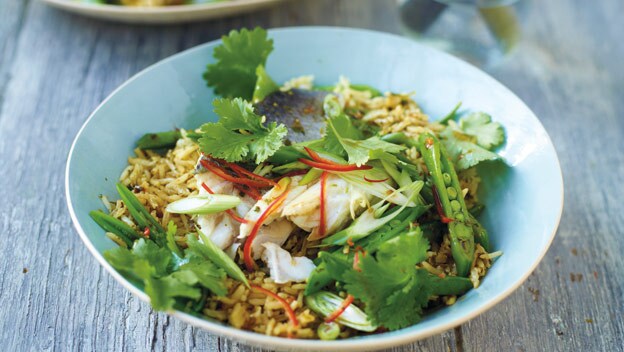 You are about to visit a Philips global content page
Continue
You are about to visit the Philips USA website.
I understand
Our site can best be viewed with the latest version of Microsoft Edge, Google Chrome or Firefox.