Servings
2 persons,
Preparation time
10 minutes,
Cooking time:
65 minutes
Ingredients
4 tablespoons olive oil
250 grams of good-quality cooked ham, torn into small pieces
optional: 50 grams of salami, skin removed and chopped into small chunks
1 carrot, peeled and cut into 1cm chunks
300 grams of waxy potatoes, scrubbed clean and cut into 1cm chunks
2 sprigs of fresh thyme, leaves picked
1 sprig of fresh rosemary, leaves picked
sea salt and freshly ground black pepper
1 small onion, peeled and finely chopped
2 large free-range eggs
dill pickles or mini gherkins, finely chopped, to serve for the dressing
1 mixed bunch of fresh chives, dill and flat-leaf parsley, finely chopped
1 teaspoon Dijon mustard
1 tablespoon cider vinegar
Directions
Make sure the stirrer attachment is in place in the pan, then set the temperature to 175°C. Once the pan has heated up, add 1 tablespoon of olive oil, the ham and salami, if using. Set the timer for 12 minutes, so the meat goes lovely and crispy.
Meanwhile, in a bowl, toss the carrots and potatoes with 2 tablespoons of olive oil, the thyme and rosemary leaves, and a pinch of salt and pepper. When the time's up, use a slotted spoon to remove the meat from the pan, then increase the temperature to 250°C. Add the carrot and potato and set the timer for 30 minutes. Add the onion and remaining oil to the pan and set the timer for 10 minutes. Put a saucepan of water on a high heat to come to the boil.
When the time's up, return the crispy meat to the pan, along with any resting juices, and set the timer for a final 10 minutes. Meanwhile, finely chop the herb leaves (reserving a few dill tips) and mix with the rest of the dressing ingredients in a small bowl or clean jam jar.
When there's about 5 minutes to go, add a pinch of salt to the boiling water. Crack one of the eggs into a cup and gently pour into the water, then repeat. Poach to your liking (anywhere from 2 to 4 minutes). To check if they're done, carefully remove one with a slotted spoon and gently push it with a teaspoon. If it feels too soft (use your instincts), put it back and give the eggs a minute or two more to firm up.
Drizzle the dressing over the hash then divide it between two plates, sprinkle over the pickles or mini gherkins and reserved dill then top each portion with a poached egg.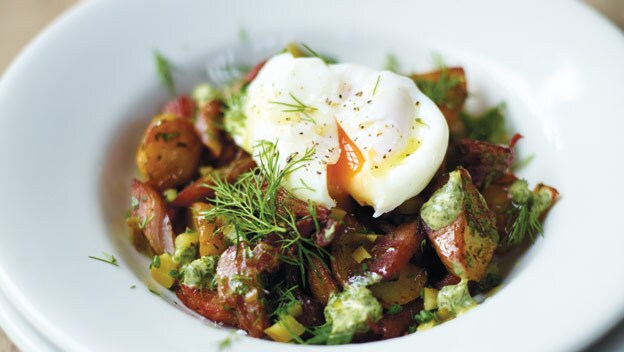 Our site can best be viewed with the latest version of Microsoft Edge, Google Chrome or Firefox.