Servings
6 persons,
Preparation time
20 minutes,
Cooking time:
40 minutes
Ingredients
1 tablespoon olive oil
100 grams of chorizo sausage, sliced
1 green pepper, deseeded and roughly chopped
4 cloves of garlic, peeled and chopped
1 onion, peeled and chopped
1 small bunch of fresh flat-leaf parsley, leaves picked and stalks finely chopped
sea salt and freshly ground black pepper
1 pinch of saffron
200 grams of mussels or clams, scrubbed clean and debearded
300 grams of paella rice
200 grams of jarred red peppers, drained and roughly chopped
1 x 400 grams of tin chopped tomatoes
800 millilitres of chicken stock, preferably organic
12 large raw prawns, shell on
100 grams of squid, cleaned and finely sliced into rings
150 grams of green beans, trimmed and finely sliced at an angle
2 lemons
Directions
Make sure the stirrer attachment is in place in the pan, then set the temperature to 250°C. Once the pan has heated up, add the olive oil and chorizo and set the timer for 5 minutes, so the chorizo starts to turn golden and the fat begins to cook out. Add the chopped green pepper, garlic, onion, parsley stalks, a good pinch of salt and pepper, and the saffron. Set the timer for 10 minutes.
Meanwhile, pick through the mussels or clams and throw away any that are open and don't close when tapped. Reduce the temperature to 175°C and add the rice and jarred peppers. Set the timer for 5 minutes – the rice will get coated in all the lovely flavours in the pan.
Pour in the tinned tomatoes, stock and a pinch of seasoning. Bring to the boil then reduce the temperature to 130°C. Scatter the prawns evenly over the top of the paella, followed by the squid and the mussels or clams. Put the lid on and set the timer for 5 minutes. When the time's up, add the sliced green beans to the pan, replace the lid and set the timer for a further 10 minutes.
Roughly chop and scatter the parsley leaves over the paella and squeeze in the juice from one of the lemons. Divide between your bowls and serve with lemon wedges on the side for squeezing over.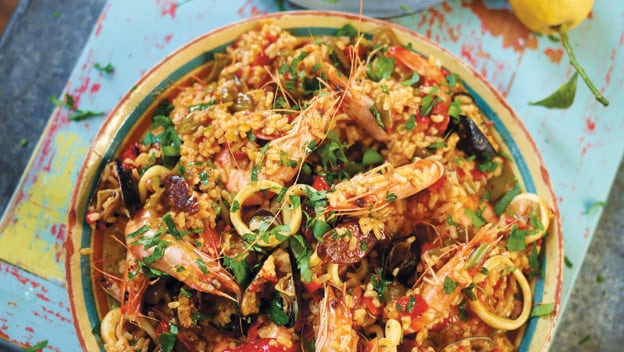 Our site can best be viewed with the latest version of Microsoft Edge, Google Chrome or Firefox.