Servings
4 persons,
Preparation time
10 minutes,
Cooking time:
230 minutes
Ingredients
1 tablespoon of olive oil
2 red onions, peeled and sliced
2 fresh red chillies, deseeded and finely chopped
2 teaspoons of sweet smoked paprika
2 teaspoons of ground caraway seeds
sea salt and freshly ground black pepper
800 grams of diced stewing beef
2 red peppers, deseeded and sliced
150 grams of jarred red peppers, drained and roughly chopped
1 x 400g tin plum tomatoes
800 millilitres of beef stock, preferably organic
4 tablespoons of red wine vinegar
250 grams of basmati rice
1 small bunch of fresh flat-leaf parsley
zest of 1 lemon
4 tablespoons soured cream
Directions
Make sure the stirrer attachment is in place in the pan, then set the temperature to 175°C. Once the pan has heated up, add the olive oil, onion, chilli, paprika, caraway seeds, and a pinch of salt and pepper. Set the timer for 20 minutes.
Add the beef, all the peppers and the tomatoes to the pan, then pour in the stock and vinegar. Bring the goulash to the boil, then reduce the temperature to 130°C, put the lid on and set the timer for 90 minutes. When the time's up, remove the lid and set the timer for a further 90 minutes. After that time, reset the timer for a further 30 minutes.
When there's about 15 minutes to go, cook the rice in a pan of boiling salted water according to packet instructions. Drain in a colander and leave to steam dry. Finely chop the top leafy part of the parsley.
Turn the HomeCooker off and carefully remove the stirrer attachment. Stir through most of the chopped parsley and the lemon zest and season to taste. Serve with the rice, scattered with the remaining parsley, and a dollop of sour cream on the side.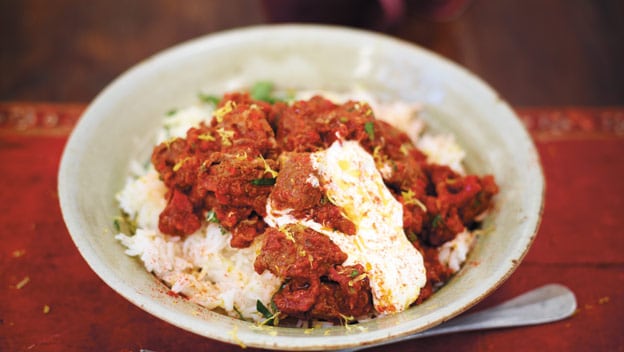 Our site can best be viewed with the latest version of Microsoft Edge, Google Chrome or Firefox.