Daily Collection
Food processor
HR7625/70


Daily Collection
Food processor
HR7625/70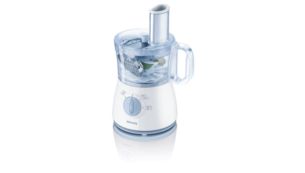 All accessories fit in the bowl for compact storage
Microstore allows you to store all your accessories inside the bowl for easy and compact storage.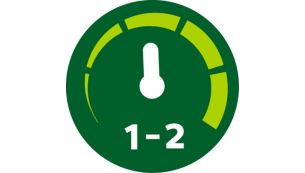 2 speeds and pulse
The Philips food processor has two speed settings to match hard or soft ingredients. Plus, a pulse funtion for chopping garlic or crushing ice for example.
500 Watt motor to handle large quantities and heavy kneading
With the 500W motor plus 2 speed settings and pulse button you can pick the right speed for optimal results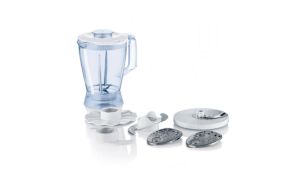 Easily performs 25+ functions
The Food Processor comes with 7 accessories to perform 25+ functions. The – dishwasher safe - accessories are a kneading tool for mixing batter and for heavy kneading. A stainless steel chopping knife to prepare meat and vegetables. Metal disk inserts to handle medium shredding and granulating. Break resistant blender of 1.5l for blending, crushing and stirring different ingredients. And an emulsifying disk to prepare food like whipped cream and mayonnaise.
Vertical design takes up to 35% less kitchen space
The special vertical design has a 35% smaller footprint versus side-by-side food processors. This saves valuable worktop space and means that even the smallest kitchens can now have a food processor.
Including blender
The Food Processor comes with 7 accessories to perform 28 functions. They are: a stainless steel blade for chopping, beating, creaming, crumbling, cutting, folding in, mashing, mincing, mixing; a kneading tool for (heavy) kneading; a slicing insert for medium slicing of vegetables & fruit; a shredding insert for medium shredding of vegetables, fruit and cheese; an emulsifying disc for whipping, whisking, emulsifying; a granulating insert for granulating potatoes; and a blender for for blending, crushing, foaming, grinding, (heavy)pureeing, homogenizing, liquidizing, milling, shaking, stirring.
Technical Specifications
Country of origin

China

Design specifications

Housing

Bowl, cover, pusher

Emulsifying disc

Metal knife and inserts

Switch and toolholder

Knife holder

Blender jar knife holder

Blender jar, cover and cup

Blender knife

Accessories

Granulating insert medium

For granulating of potatoes, cheese

Emulsifying disk

For whipping, whisking and emulsifying

Kneading tool

For kneading and heavy kneading

Stainless steel chopping knife

Blender

Shredding insert medium

For medium shredding of vegetables, fruit, cheese

Slicing insert medium

For medium slicing of vegetables and fruit

Number of inserts/discs

Technical specifications

Power

Color(s)

Bright white and celestial blue

Cord length

Frequency

Voltage

Motor

Universal, radio/tv interference suppressed

Blender volume capacity liquid

Bowl capacity dough

Bowl capacity dry

Speeds

Safety

Safety lock system for lid & bowl detection

Mechanical brake on toolholder stops within 1.5sec

Bowl capacity flour

Bowl volume capacity liquid
Our site can best be viewed with the latest version of Microsoft Edge, Google Chrome or Firefox.