Fresh Beetroot Soup
Servings
4 persons,
Preparation time
0 minutes,
Cooking time:
23 minutes
Ingredients
400 g beetroot
50 g chopped onions
pepper & salt
700 ml vegetable stock
150 ml sour cream
fresh dill, to garnish
Directions
Peel the beetroot and cut into 2 cm cubes. Place the beetroot, stock and onions into the soup maker, and close the lid.
When the soup maker is ready, open the lid and stir in the sour cream. Season to taste.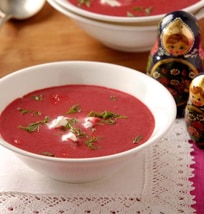 Our site can best be viewed with the latest version of Microsoft Edge, Google Chrome or Firefox.