Crispy spring greens
Servings
4 persons,
Preparation time
0 minutes,
Cooking time:
40 minutes
Ingredients
4 salmon steaks of 200 g each
10 g dill, keep a few sprigs to use for garnish
300 g white minute rice
1 courgette, finely sliced
200 g green asparagus tips
150 g broad beans (frozen)
150 g garden peas (frozen)
freshly ground pepper
salt
lemon-flavoured olive oil
Directions
Place steaming tier 1 on the drip tray. Place steaming tier 2 on top of steaming tier 1.
Hang rice steaming tier in steaming tier 2 and add rice and approximately 450 ml of warm water and salt. Cover with lid.
Set the timer for 20 minutes.
Then fill steaming tier 3, starting with a layer of courgette slices, followed by the asparagus tips, broad beans and peas. After 10 minutes steaming time, place this steaming tier on top of steaming tier 2.
After 20 minutes steaming time put the salmon steaks in steaming tier 1.
Add a few sprigs of dill to the flavour booster. Set the timer for another 15 minutes and steam the 3 steaming tiers until done. Switch off the steamer.
Season the salmon steaks with salt and freshly ground pepper and serve on a bed of rice with al dente-cooked green vegetables. Drizzle with lemon-flavoured olive oil and garnish with a few sprigs of dill.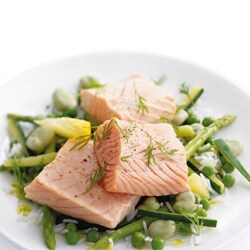 Our site can best be viewed with the latest version of Microsoft Edge, Google Chrome or Firefox.