Very Light Lemon Crepes
Servings
9+ persons,
Preparation time
5 minutes,
Cooking time:
20 minutes
Ingredients
1 lemon
3 eggs
500ml milk
250g flour, sieved
pinch salt
Sugar
50ml oil
Small saucepan with a diameter of 18 cm
Directions
Grate one tablespoon of lemon peel.
Separate the egg whites from the yolks.
Mix the grated lemon peel, yolks, milk, flour and salt into a smooth batter.
Use the hand blender to beat the egg whites into a foam in the measuring jug and fold thoroughly into batter.
Heat the saucepan. Grease lightly with oil and add half a soup spoon of batter. Spread equally across the pan and bake on both sides until golden brown. Repeat until the batter runs out. Serve the crepes with lemon and sugar.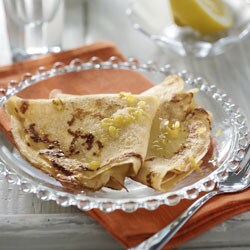 Our site can best be viewed with the latest version of Microsoft Edge, Google Chrome or Firefox.