Fresh and healthy
Servings
1 persons,
Preparation time
5 minutes
Ingredients
1 crisphead lettuce
1 butterhead lettuce
12 cherry tomatoes
100 g hazelnuts
25 ml vinegar
25 ml mustard
75 ml extra virgin olive oil
50 ml honey
Directions
Wash the lettuce leaves and dry with a cloth. Cut the tomatoes in half.
Using the food processor, grind the hazelnuts and set aside.
Mix the mustard, vinegar, olive oil, honey and add salt to taste.
Sprinkle the hazelnuts over the salad, drizzle the sauce over the salad and serve immediately.
5 minutes total preparation time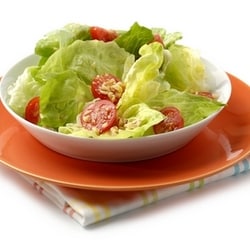 Our site can best be viewed with the latest version of Microsoft Edge, Google Chrome or Firefox.