Servings
4 persons,
Preparation time
15 minutes,
Cooking time:
22 minutes
Ingredients
1 garlic bulb
3 tablespoons olive oil
1 tablespoon fresh oregano, finely chopped
Sea salt
Freshly ground black pepper
8 lamb chops
Directions
Preheat the airfryer to 200°C. Thinly coat the garlic bulb with olive oil and put it in the basket. Slide the basket into the airfryer and set the timer to 12 minutes. Roast the garlic until done.
In the meantime mix the herbs with some sea salt, pepper and olive oil. Thinly coat the lamb chops with half a tablespoon of herb oil in total and leave them for 5 minutes.
Remove the garlic bulb from the basket and pre-heat the airfryer to 200°C.
Place four lamb chops in the basket and slide the basket into the airfryer. Set the timer to 5 minutes. Roast the lamb chops nicely brown. Inside they may still be red or pink. Keep them warm in a dish and roast the other lamb chops in the same way.
Squeeze the garlic cloves between thumb and index finger over the herb oil. Add some salt and pepper, and stir the mixture well.
Serve the lamb chops with garlic sauce. Tasty with couscous and braised zucchini.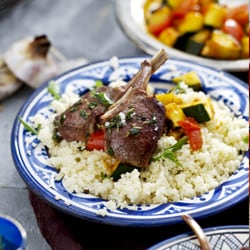 Our site can best be viewed with the latest version of Microsoft Edge, Google Chrome or Firefox.