Servings
4 persons,
Preparation time
10 minutes,
Cooking time:
10 minutes
Ingredients
4 small, firm apples
40 g blanched almonds
25 g (white) raisins
2 tablespoons sugar
Vanilla sauce (see tip) or whipped cream
Parchment paper
Directions
Wash the apples and remove the cores.
Grind the almonds in the food processor and add the raisins, sugar, and calvados. Turn the mixture another 30 seconds in the food processor.
Preheat the airfryer to 180°C. Line the bottom of the basket with baking parchment, leave 1 cm of the edge open.
Fill the apples with the raisin mixture and put them side by side in the basket.
Slide the basket into the airfryer and set the timer to 10 minutes. Bake the apples until brown and done.
Serve the apples on plates and spoon the vanilla sauce or ice cream next to the apples.
TIP: Vanilla sauce; Heat 125 ml whipping cream with the scrapings from one vanilla pod and 2 tablespoons of sugar for 2-3 minutes. Stir to dissolve the sugar. Leave the sauce to cool before serving.
TIP: Stuffed Peaches with Amaretti; Halve two peaches and fill them with a mixture of four crumbled amaretti cookies, 1 tablespoon slivered almonds, and 1 tablespoon finely chopped ginger balls. Roast them in the same way as the apples.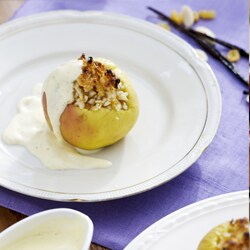 Our site can best be viewed with the latest version of Microsoft Edge, Google Chrome or Firefox.