Servings
4 persons,
Preparation time
15 minutes,
Cooking time:
15 minutes
Ingredients
2 large chicken fillets
Freshly ground pepper
4 small slices Brie cheese
1 tablespoon chives, finely chopped
4 slices cured ham
Directions
Preheat the airfryer to 180°C.
Cut the chicken fillets into four equal pieces and slit them horizontally to 1 cm from the edge. Open the chicken fillets and sprinkle with salt and pepper. Cover each piece with a slice of Brie and some chives.
Close the chicken fillets and tightly wrap a slice of ham around them. Thinly coat the stuffed fillets with olive oil and put them in the basket.
Slide the basket into the airfryer and set the timer to 15 minutes. Roast the chicken fillets nicely brown and done. Delicious with mashed potatoes and stir-fried witloof chicory.
TIP Replace the Brie by another cheese, such as Gouda, Cheddar or Gruyère.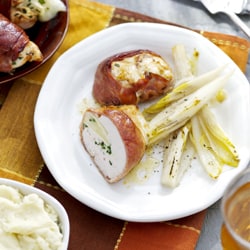 Our site can best be viewed with the latest version of Microsoft Edge, Google Chrome or Firefox.