New Delhi – Philips India, a leading health and well-being company, today announced the launch of Philips PerfectCare Iron, a ground-breaking technological innovation in the Garment Care category. As the market leader in the Garment Care category, Philips India has found the perfect solution for the daily needs of its evolved and informed consumer.
As the world's number one ironing brand with over fifty years expertise in ironing, Philips has invested heavily in research and development with the world's leading fabric specialists to change ironing for good. The result is Philips' ground-breaking innovation – OptimalTemp – the only technology which maintains the perfect combination of temperature and steam so one no longer needs to change a temperature dial to iron different fabrics. Exclusive to Philips PerfectCare steam generators and unique pressurized steam iron, it allows one to go from linen to cotton to cashmere to silk, all on one perfect setting.
Commenting on the occasion, Mr. ADA Ratnam, President, Consumer Lifestyle, Philips India, said, "Philips strives to deliver innovative products and solutions that can improve the lives of the modern consumers who are more informed, aware and look for solutions that add to their lifestyle. PerfectCare is designed for the modern home that demands efficiency, state-of-the-art technology as well as aesthetics."
Talking about the launch of the new product, Mr. Gulbahar Taurani, Director Marketing and Business Head, Domestic Appliances said, "With consumers increasingly moving from dry irons to steam irons, the market is opening up faster. Consumers are willing to invest in more advanced technology for their modern lifestyles and we at Philips are happy to bring them the best of our technology – PerfectCare, India's first steam generator, with the OptimalTemp technology. An iron that just can't burn your garment is now a reality."  
With its OptimalTemp technology, Philips PerfectCare Aqua provides one temperature setting for all fabrics. 100 % safe and effective on both delicate and tough fabrics, this new product is faster than any other steam iron, and irons any fabric without having to adjust the temperature.
This wonder iron also attempted to enter the Limca Book of Records today by ironing a 100 meter gown trail made of 37 different fabrics in less than 2 hours. 2 units of the PerfectCare Aqua were deployed for the record. The Philips PerfectCare Aqua proved to be efficient, safe and hassle free during the entire record attempt.
Priced at MRP 23,495/- the new PerfectCare is available at modern trade outlets, traditional retail stores.
About the product: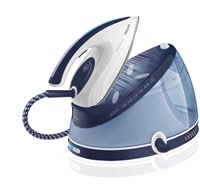 One perfect setting for all your clothes

OptimalTemp: The perfect combination of steam & temperature
100% easy to use, no adjustment required
100% safe on all ironable garments, even the most delicate like silk, cashmere, wool, polyester
100% fast on all fabrics, no other iron is faster
Tested and approved by independent textile experts




Fast and powerful ironing

Up to 5 bars of steam pressure for fast ironing
Continuous steam up to 120 g/min & Steam boost 220 g




Comfortable ironing

Large 2.2L fully visible water tank ensuring long hours ironing without refill of water tank
Light 1 kg iron always safe on all fabrics
Easy De-Calc, hassle free & effective anti-scale system
New SteamGlide soleplate is Philips premium soleplate
Lock your iron to the steam generator securely and carry your appliance easily




Product specifications:
Fast & powerful crease removal

Soleplate: SteamGlide
OptimalTemp Technology
Steam output
Continuous steam output: 120 g/min
Steam boost: 220 g
Vertical steam
Pressure: Up to 5
Steam tip
Power: 2400 W




Easy to use

Water tank capacity: 2200 ml
Filling and emptying water: Extra large filling hole
Refill any time
Safety auto off
Storage solution: Carry lock
Hose storage: Hose storage compartment
Power cord length: 1.8 m
Hose length: 1.6 m
Safe for all fabrics: Even for delicates like silks
Low water alarm
Heat-up time: 2 min
Cord freedom (swivel): 180 degree cord freedom




Sustainability

ECO setting: 20% energy reduction




Calc management

Suitable for tap water
Calc clean solution: Easy De-calc
Calc clean reminder




Technical specifications

Product dimensions: 36.2 x 27 x 26.3 cm
Weight of iron: 1 kg
Weight of iron + base: 4.5 kg
Price:
MRP 23,495/-