New Delhi – Philips India, a leading health and well-being company, today demonstrated the power of its innovative 'OptimalTemp' technology in irons by attempting a novel record to enter the Limca Book of Records. The record attempt involved ironing a grand ball gown made of 100 metres of cloth including 37 different fabrics in less than 120 minutes, without changing any temperature settings. The real challenge was to iron so many different types of fabrics without burning any of them, since no temperature setting changes were done. With this attempt, Philips India is set to successfully enter the Limca Book of Records.
Philips India attempted this record during the launch of Philips PerfectCare, which is India's first steam generator with OptimalTemp technology, using two units of this ironing wizard.  The ball gown had a bodice made of sequined material, while the rest of the body was fashioned from smooth satin. The frills on the gown were made of 37 different types of fabrics ranging from Silk Velvet, Micro Velvet, Semi Velvet, Rossi 90Gms, Rossi 75Gms, Pure Linen, Cotton Crush Satin, Georgette Lace (Crush), Lycra, Matka Cotton, Pure Cotton, Matka Silk, Seudley Net, Organza Silk 25Gms, Organza Silk 80Gms, Poly Georgette, Tapta, Poly Dupion, Croma, Suede, Satin Gani, Cotton Cadavi, Terry Vile, Cotton Viscous, Cotton Lycra, Semi Satin Lycra, Velvet, Pure Cotton Linen, Semi Gorgette, Satin Gorgette, Pure Silk, Poly Chandari, Heavy Lycra, Fur, to Crepe.
This magnificent gown was 8ft 6inches in height with the frills having a diameter of 10ft 6inches for the 1st circle, 16ft 3inches for the 2nd circle, 20ft 6inches for the 3rd and 25ft 6 inches for the 4th circle. Despite the intricacies and delicate nature of the fabrics, the gown was ironed non-stop without changing any temperature settings. The PerfectCare irons glided comfortably from one fabric to the other without any burning of damage to any of the fabrics. The record attempt was taken up as the ultimate ironing challenge to prove the mettle of Philips' patented 'OptimalTemp' technology which the PerfectCare irons offer. This technology eliminates the need for any temperature control, making sure that no matter what the fabric, there is zero chance of the garment getting burnt.
Commenting on the occasion, Mr. ADA Ratnam, President, Consumer Lifestyle, Philips India, said, "Innovation is at the heart of everything we do and the newly launched Perfect Care iron is yet another testament to this commitment. Our consumer insights show that burning their favorite or most expensive garments is a persistent fear for most people. Neither can they completely trust the neighborhood Dhobi, nor the domestic help, not even themselves when they iron. PerfectCare eliminates that fear because you just can't go wrong with its technology. There is no temperature control, and it has a powerful steam generator which will make sure that it gives you perfect ironing without any chance of burning."
Philips India is the market leader in Garment care and offers over 30 different products across its portfolio of dry and steam irons. The PerfectCare is the latest technological innovation in the Garment Care space and is the first ever steam generator to enter the Indian market.
Priced at MRP 23,495/- the new PerfectCare is available at modern trade outlets and traditional retail stores.
About the product: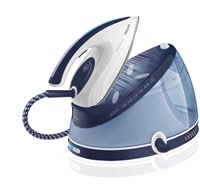 One perfect setting for all your clothes

OptimalTemp: The perfect combination of steam & temperature
100% easy to use, no adjustment required
100% safe on all ironable garments, even the most delicate like silk, cashmere, wool, polyester
100% fast on all fabrics, no other iron is faster
Tested and approved by independent textile experts



Fast and powerful ironing

Up to 5 bars of steam pressure for fast ironing
Continuous steam up to 120 g/min & Steam boost 220 g



Comfortable ironing

Large 2.2L fully visible water tank ensuring long hours ironing without refill of water tank
Light 1 kg iron always safe on all fabrics
Easy De-Calc, hassle free & effective anti-scale system
New SteamGlide soleplate is Philips premium soleplate
Lock your iron to the steam generator securely and carry your appliance easily
Product specifications:
Fast & powerful crease removal

Soleplate: SteamGlide
OptimalTemp Technology
Steam output
Continuous steam output: 120 g/min
Steam boost: 220 g
Vertical steam
Pressure: Up to 5
Steam tip
Power: 2400 W



Easy to use

Water tank capacity: 2200 ml
Filling and emptying water: Extra large filling hole
Refill any time
Safety auto off
Storage solution: Carry lock
Hose storage: Hose storage compartment
Power cord length: 1.8 m
Hose length: 1.6 m
Safe for all fabrics: Even for delicates like silks
Low water alarm
Heat-up time: 2 min
Cord freedom (swivel): 180 degree cord freedom



Sustainability

ECO setting: 20% energy reduction



Calc management

Suitable for tap water
Calc clean solution: Easy De-calc
Calc clean reminder



Technical specifications

Product dimensions: 36.2 x 27 x 26.3 cm
Weight of iron: 1 kg
Weight of iron + base: 4.5 kg
Price:
MRP 23,495/-